help you in the creation of your tailor-made event
Let the CGN accompany you on your travels
Whether for an hour or a day, CGN offers you a unique experience, combining relaxation and pleasures of the palate, with cruises adapted to all your desires as you discover the most beautiful landscapes of the Lake Geneva region.
Cruises to...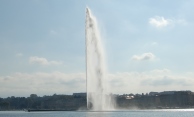 Geneva
This international city is the second largest in Switzerland. The European UN headquarters and the main office of the Red Cross are both located here, leading it to be given the nickname of "capital of peace" As the boat enters Geneva harbour, you will get a close-up view of the Jet d'Eau fountain, which will leave you an unforgettable souvenir. Do not forget to take advantage of our
combined ticket
that includes admission to the Red Cross International Museum.
Cruises from Geneva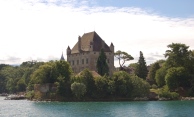 Yvoire
The medieval village, with its famous centre in bloom, is classed among the most beautiful villages in France. As you arrive by boat you will be able to admire the characteristic silhouette of this medieval village with its church and castle. Yvoire is also a popular destination for lovers of good food who will delight in the delicious perch fillets. Do not forget to take advantage of our
combined ticket
that includes admission to the Garden of the Five Senses.
Cruises to Yvoire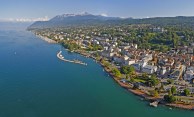 Evian
Known for its mineral water, its baths and its casino, Evian-les-Bains is also a town of culture, relaxation and shopping. Situated only 35 minutes from Lausanne by boat, it is an ideal excursion destination. Do not miss our
combined ticket
for your visit to the Palais Lumière.
Cruises to Evian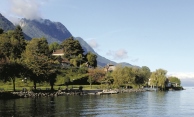 Le Bouveret
This charming little Valais village is an ideal destination for your family excursions thanks to its two well-known amusement parks: Aquaparc and Swiss Vapeur Parc. And do not forget to take advantage of our
combined offer
for your entry to the famous miniature train park.
Cruises from Bouveret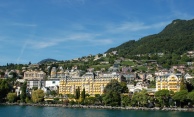 Montreux
With its Mediterranean climate and quayside in bloom, Montreux offers a lakeside stroll of nearly 7 km among exotic flowers and palm trees. Plant sculptures, veritable specialities of Montreux, add a touch of originality to the landscape. The town is known world-wide for its famous Montreux Jazz Festival that takes place each year early in July.
Cruises from Montreux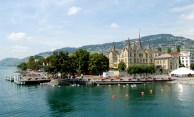 Vevey
This vibrant town on the Swiss Riviera, with its old town and innumerable small stores and boutiques, is one of the pearls of Lake Geneva. Do not forget to take advantage of our
combined tickets
that include admission to Chaplin's World and the Alimentarium museum and activity centre.
Cruises from Vevey
Thonon
Capital of the Chablais area in the French Savoy region, Thonon, with its picturesque fishing port, castle and town centre, is a prime destination. And why not take advantage of the Thursday market to go shopping? Combine your cruise with a Thonon Pass and enjoy activities in Thonon free of charge or at reduced rate.
Cruises to Thonon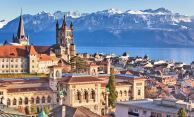 Lausanne
This Olympic capital, its three hills giving it a unique relief, offers visitors spectacular views of Lake Geneva and the Alps. Those who love shopping will be delighted with the numerous stores and boutiques in its particularly lively town centre. Do not forget to take advantage of
our combined tickets
that include admission to the Olympic Museum and Aquatis.
Cruises from Lausanne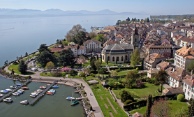 Morges
Enjoy a charming stroll along the quayside of this small town on the shore of Lake Geneva, just a few kilometers from Lausanne. Its town centre, with a large pedestrian street, is a prime destination for shopping.
Cruises from Morges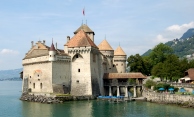 Chillon
Chillon Castle, a not-to-be-missed monument dating back to the 12th century, appears to float on the lake. In addition to the castle visit, there are regularly renewed exhibitions to be discovered by families.
Cruises from Chillon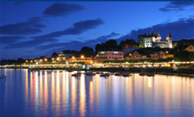 Nyon
A lakeside town in the magnificent Swiss coast region, with its castle standing out against the skyline and its numerous museums of unrivalled interest. Follow in Tintin's footsteps with a guided tour proposed by the local tourist office. Do not forget to take advantage of
our combined tickets
that include admission to the Leman's museum and the Swiss national museum, Prangins Castle.
Cruises from Nyon
Suggestions & Inspirations
Our suggestions of cruises and top destinations on Lake Geneva
Take a sailing tour through your heritage

Discover the Riviera without ever setting foot on ashore

Discover Geneva without the traffic jams