Belle Epoque Fleet
The only fleet of its type in the world!
CGN preserves and operates the most prestigious Belle Epoque fleet of the world. Its mission is to preserve this unique heritage.
As such, it strives to renovate and keep these units as close to their original appearance as possible.
A big thank you to the ABVL, the CGN's main partner in the preservation of the Belle Epoque fleet

La Suisse
Belle Epoque - paddle steamboat
The most beautiful boat in the world! Fully renovated in 2009, our flagship has been described as the most beautiful steam boat in the world, with the restoration work on its first and second class lounges making them real masterpieces.
Commissioned

1910

Capacity

850 pers.

Length

78.5 m

Catering

200 pers.

Power

1400 hp / 1030 kW

Route

Higher-Lake
See schedules (10Mb PDF)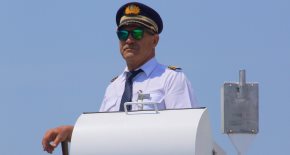 The Captain's recommendation
"Don't miss the mythical figureheads at the bow and stern, sculpted in wood and entirely covered in gold leaf."
360° upper deck visit
360° Belle Epoque lounge visit
PHOTO GALLERY