Belle Epoque Fleet
The only fleet of its type in the world!

Rhône
Belle Epoque - paddle steamboat
The last paddle steamer built entirely in Switzerland, it is equipped with a unique steam engine with automatic pressure lubrication, requiring covers over the crankshaft and eccentrics. These were originally in metal but were replaced 2011 by a Plexiglas model allowing passengers to see, as on the other boats, the rhythmic movements of the engine. The RHONE is appreciated in summer for its largely open upper deck that is to be retained in its future general renovation.
Commissioned

1927

Capacity

600 pers.

Length

68 m

Catering

200 pers.

Power

850 hp / 625 kW

In restoration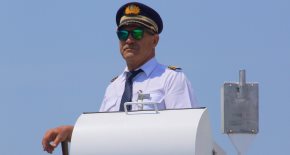 The Captain's recommendation
"Gather around the engine with its Plexiglas protective covers to see the workings of the engine parts lubricated under pressure, an example of the final development in this type of classic propulsion of paddle steamers!"