Belle Epoque Fleet
The only fleet of its type in the world!
CGN preserves and operates the most prestigious Belle Epoque fleet of the world. Its mission is to preserve this unique heritage.
As such, it strives to renovate and keep these units as close to their original appearance as possible.
A big thank you to the ABVL, the CGN's main partner in the preservation of the Belle Epoque fleet

Simplon
Belle Epoque - paddle steamboat
Along with the LA SUISSE the largest in the fleet, this great boat impresses by the power and responsiveness of its engine and is the favorite of many "aficionados" who often come from very far away for a cruise on it. It is the first CGN steamboat with the boiler at the rear and the engine at the front, which changes the boat's silhouette due to the positioning of its smokestack. After two partial renovations in 2005 and 2011, it will still need a last major renovation before 2030. The lounge offers a fine example of neo-classical art with paneling in variegated maple.
Commissioned

1915 - 1920

Capacity

850 pers.

Length

78.5 m

Catering

330 pers.

Power

1400 hp / 1030 kW

Route

Lausanne-Ouchy - Geneva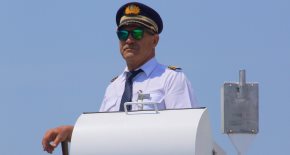 the Captain's recommandation
"Don't miss the opportunity to see the rhythmic movements of Europe's most powerful and reactive steam engine!"