Belle Epoque Fleet
The only fleet of its type in the world!
CGN preserves and operates the most prestigious Belle Epoque fleet of the world. Its mission is to preserve this unique heritage.
As such, it strives to renovate and keep these units as close to their original appearance as possible.
A big thank you to the ABVL, the CGN's main partner in the preservation of the Belle Epoque fleet

Savoie
Belle Epoque - paddle steamboat
Jewel of Lake Geneva's Belle Epoque fleet! Greatly inspired by the large flagship LA SUISSE, but of average size like the MONTREUX and the RHONE, it is famous for its elegance and rightly considered to be one of the jewels in the Belle Epoque fleet. It was entirely renovated in 2006, retaining its original steam engine but fitted with a new, particularly cost-efficient boiler.
Commissioned

1914

Capacity

600 pers.

Length

68 m

Catering

100 pers.

Power

900 hp / 660 kW

Route

Geneva - Yvoire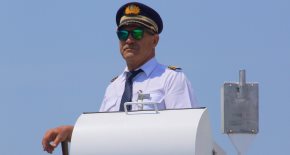 The Captain's recommendation
"You are on board the steamer embodying the elegance and harmony of the Belle Epoque!"
360° upper deck visit
360° Belle Epoque lounge visit
PHOTO GALLERY