Belle Epoque Fleet
The only fleet of its type in the world!
CGN preserves and operates the most prestigious Belle Epoque fleet of the world. Its mission is to preserve this unique heritage.
As such, it strives to renovate and keep these units as close to their original appearance as possible.
A big thank you to the ABVL, the CGN's main partner in the preservation of the Belle Epoque fleet

Montreux
Belle Epoque - paddle steamboat
The oldest boat in the CGN fleet! Despite being the oldest in the Belle Epoque fleet, it is equipped with the most recent 21st century steam engine, with remote control from the bridge and wheelhouse, a world first! The boat is greatly appreciated especially for its gourmet evening cruises between Lausanne and Yvoire. CGN's first Belle Epoque boat was completely renovated between 1998 and 2001. A feature of its first class lounge: magnificent paneling from another steamboat, the VALAIS, which disappeared in 2003.
Commissioned

1904

Capacity

560 pers.

Length

68.3 m

Catering

120 pers.

Power

900 hp / 660 kW

Route

Lausanne-Ouchy - Chillon

Lausanne-Ouchy - Yvoire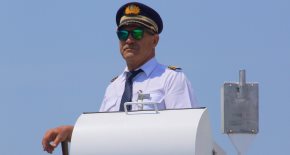 The Captain's recommendation
"Before enjoying the gastronomic buffet on the upper deck, take the time to see the steam engine at work through the skylight"
360° upper deck visit
360° Belle Epoque lounge visit
PHOTO GALLERY