Belle Epoque Fleet
The only fleet of its type in the world!

Italie
Belle Epoque - Diesel-electric paddle boat
A mythical boat! Renovated in 2016 just as its twin the VEVEY, the boat is considered by many to be "mythical", since it operated, for almost 50 years, on the journey the length of Lake Geneva from Le Bouveret to Geneva and back from April to October and thus regularly interrupted the day-to-day life of local residents as it whistled when approaching the landing.
Commissioned

1908

Capacity

560 pers.

Length

66 m

Catering

150 pers.

Power

2 x 270 kW (electric)

Route

Riviera Tour
See schedules (10Mb PDF)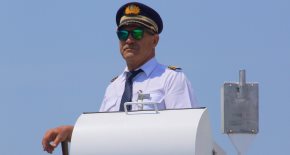 The Captain's recommendation
"Discover the movement of the paddle wheels that are fully visible!"